Marauder Photos
Have pictures of the Marauder that you want to show off? Please log into the forum and post them (or links to them) under the photos section and they will show up here..
My custom Marauder
Fri Apr 19, 2013 4:47 pm // 1 comment // doni700

[url=http://imageshack.us/photo/my-images/811/dsc00634kn.jpg/]
[/url
---
My .25 M-rod
Tue Mar 12, 2013 11:23 pm // 0 comments // Stefan
Got it like 2 weeks ago, and did a few makeovers


trigger is chromed



stock sanded and soaked into Shaftol



and finaly, bolt is also chromed. smoother action now

---
Big M and Lil P
Tue Mar 05, 2013 12:15 am // 4 comments // Family Man 811
Here they are together I made the Blackhawk stock fit my .25 with a little work. On the Mrod is a UTG Accushot S.W.A.T. 8-32x56mm with attached UTAC Green Laser and UTG 260 lumen floodlight both on pressure switches. In the rear sits a Hawk bubble level. Up front is a UTG adjustable 9-16 inch panning Bi-Pod.
Lil P boasts a UTG Accushot S.W.A.T. as well in 4-14x44mm with attached UTG red laser also pressure switched. In front is a UTG 4-9in panning Bi-Pod I am however waiting on custom machined swivel studs to secure the Bi-Pod from Jim Gaska.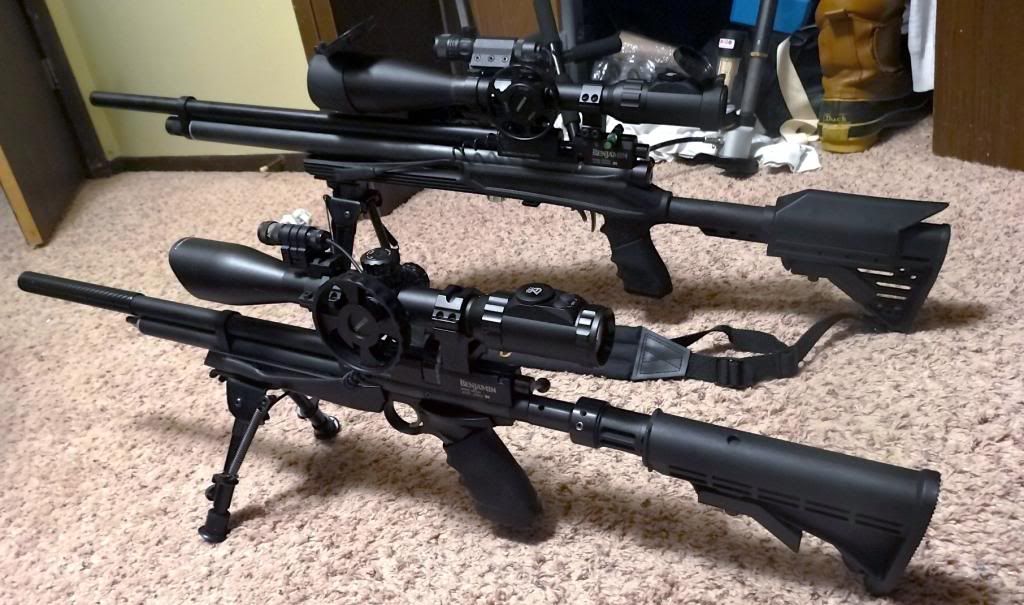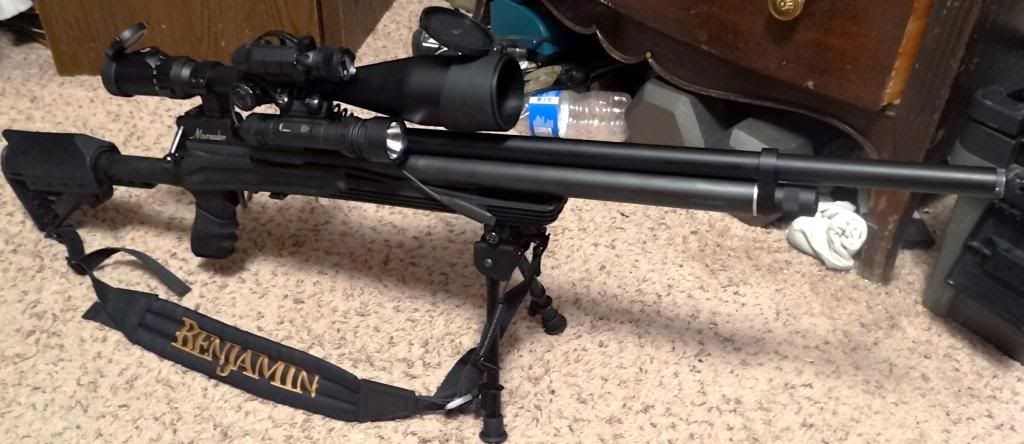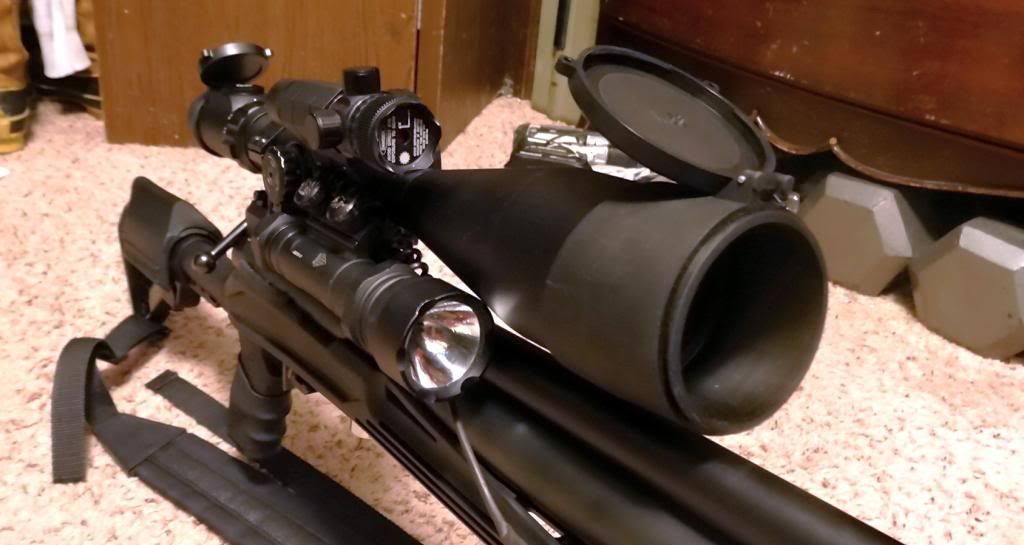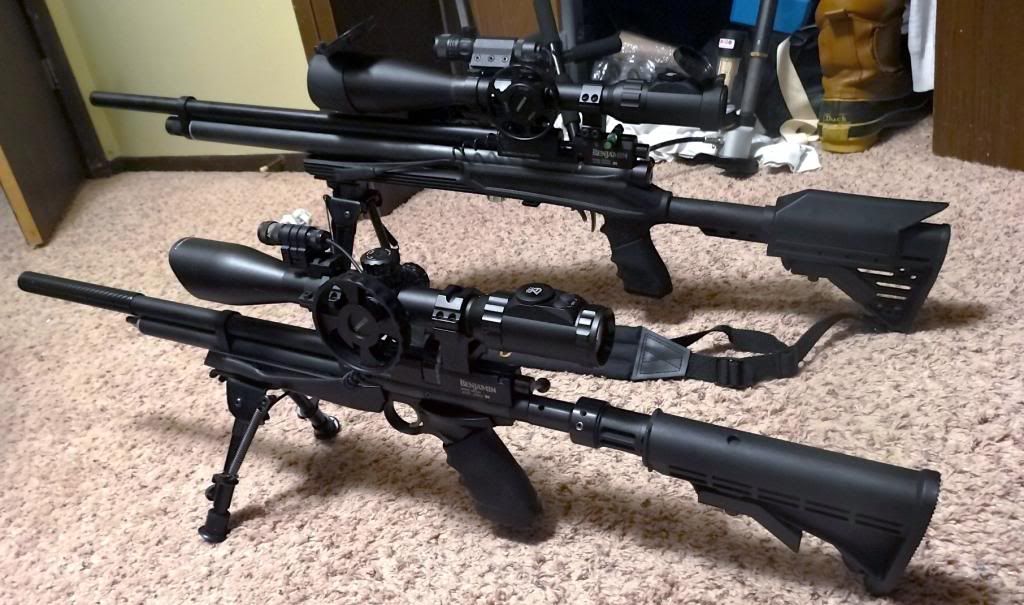 Both are consistently shooting better than quarter size groups at 30-40yd. I did all the tuning on my own with the help of fellow forum members. The Mrod .25 has the air stripper drilled out , Bstaley tune with a buna 70 and a buna 90, i tapped my hammer for a set screw, 15# hammer spring, wide open un capped valve and custom gauge block and transfer port from Addicted2Airguns, and obviously a custom Blackhawk Knoxx Axiom stock originally for a Ruger 10/22.
The Prod has the air stripper drilled as well, a TKO Stage V LDC, a tapped hammer set screw, a heavy hammer spring i custom Dremmeled to size not sure the weight but .47 thick wire, 3 o ring Bstaley mod, the valve and breech drilled bigger to 11/64 for my .164 transfer port made of Ice Maker tubing, and on the valve I installed a custom light valve spring too.
The mrod shoots JSB Exact kings for a clip barely bigger than a dime at 40yd and averaging 1012fps, and Eun Jin 43.2's for 8 shots about quarter sized at 40yd averaging 855fps. Full nuts i can get 2-3 shots at 85-89fpe!
Lil P is slingin a clip of Crosman Priemier Domes 14.3 gr an average of 949 fps and 8 shots of Eun Jin 28.5 gr Domed at an average of 798.9 fps the groups are about a hair shy of quarter sized at 30 yd.
Thanks for all the help guys my scope mount for my Sony HD camera comes tomorrow so soon hopefully some hunting vids!
---
Custom cut and shaped stocks
Wed Oct 24, 2012 11:20 pm // 7 comments // treb7998
Here are a few pics of my Marauders. This is my first attempt at posting pics, so if you have any tips they will be much appreciated.

http://s1322.beta.photobucket.com/user/ ... sort=3&o=4
Bed linered .22 and natural satin finish .25

http://s1322.beta.photobucket.com/user/ ... sort=3&o=3
Chopped off the front and sanded down the top of stock

http://s1322.beta.photobucket.com/user/ ... sort=3&o=2
Spray-on bed liner has a lite texture

http://s1322.beta.photobucket.com/user/ ... sort=3&o=1
Sanded the stock with flap disc sander to make it right handed. Chopped front off, hand sanded, and spray polyurethaned

http://s1322.beta.photobucket.com/user/ ... sort=3&o=0
Natural beech wood color with Minwax spray on polyurethane
---
New Boyd's Stock
Tue Oct 16, 2012 3:08 pm // 5 comments // tri-5-ron
Hey All, New Kid on the block here,
I just thought I'd show off the newest addition to my Marauder build.
I've been having a blast with it, and the UPS guy is getting Jealous ! LOL!

So all totaled so far,...
It is a .22 cal. M-rod, Mac-1 tuned(Thanks Tim), Vinyl de-pinged, MMM 3" Shroud extension (Thanks Jim), CP 4-16X40mm AO dual IR, 6"-9" pivot Bipod, Boyd's Blaster TH Stock (Thanks Norm)
(Not shown in these pics, is the 200 lumen LED light mounted over the scope).
Soon, I will also be ordering an Adjustable Butt Plate, and a Camera Mount for the scope. (It's almost like being a kid again,... Only BETTER !)

Anyways, hope you enjoy...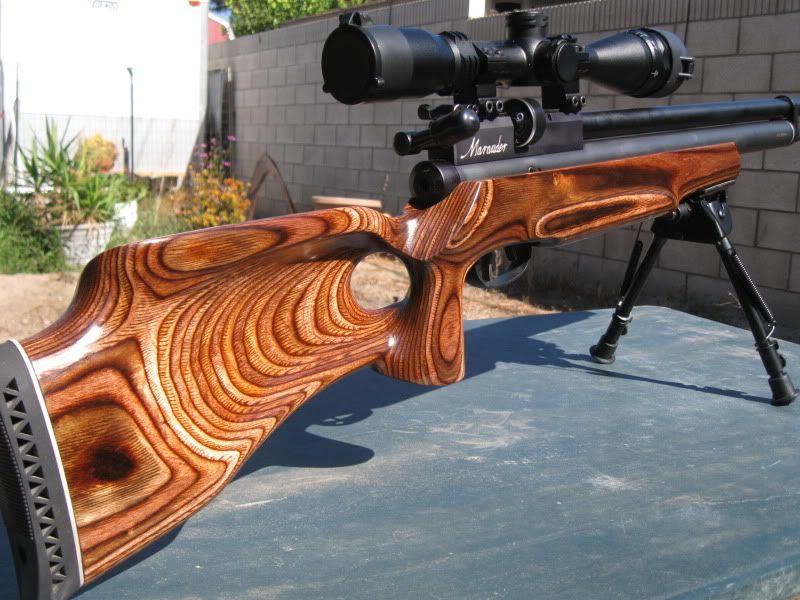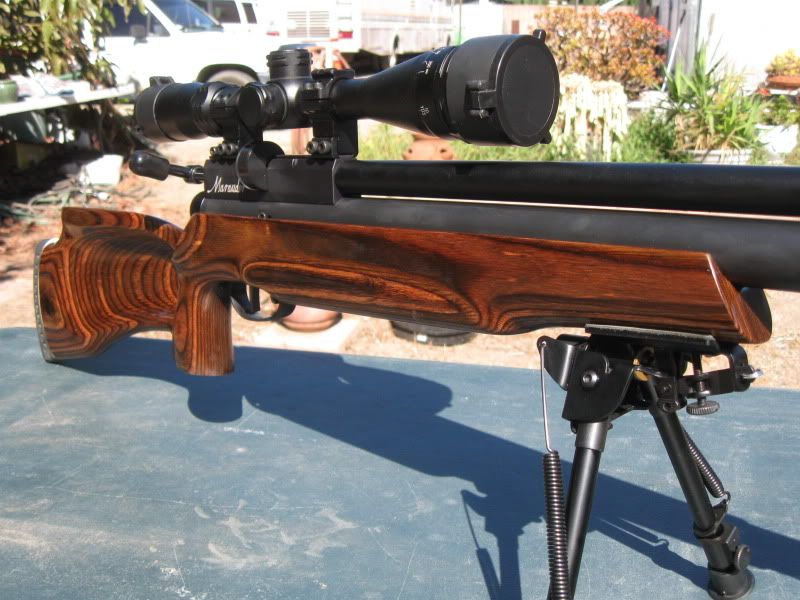 Here's a pic with the LED "Ratting Light" LOL!





Some close ups of the "Nutmeg" Boyd's Blaster TH Stock


---
New M-Rod with Refinished Sock
Mon Jul 30, 2012 6:30 pm // 0 comments // Ice88
Here is my refinished M-Rod with a Leapers 3-12x44 and the JB Guppy ready to eradicate some pest.

Thanks to the members of this forum I've found a great hobby. Im hooked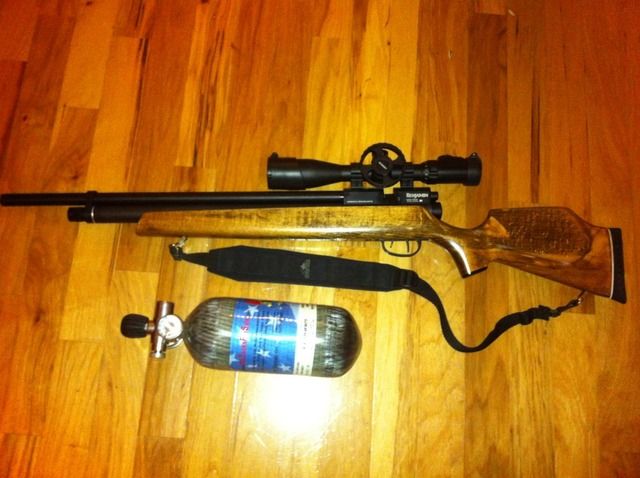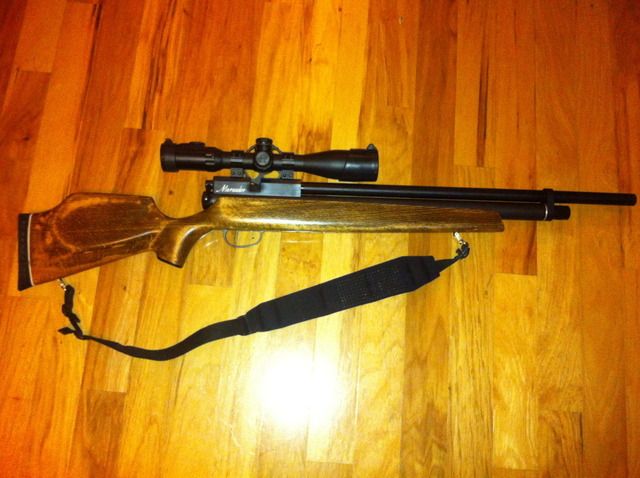 Thanks
---
New Marauder .177 w/BSA Contender 6-24x40 Mil-Dot Scope
Fri Jun 29, 2012 6:30 pm // 0 comments // Sig556ER
---